Chenor Barrie, our in country representative, reflects on the challenges coronavirus has brought to Sierra Leone.
Although the cases and deaths in Sierra Leone has been relatively low, society has been hugely affected by the many restrictions from the government. These restrictions have hit underprivileged and disabled children and adults the most.
Schools have been closed for many weeks as part of the government restrictions to curtain the spread of the virus. A radio learning method has been established, where teachers spend hours on the radio teaching pupils. This is helpful for a good number of students especially in the Capital Freetown, but unfortunately it has not been quite the same in remote areas. For example, Bonthe Island where the community radio station that ought to transmit the broadcast has been inoperative for almost a year due to administrative and logistical problems. In addition, no provision has been made for children with disabilities such as hearing impairment.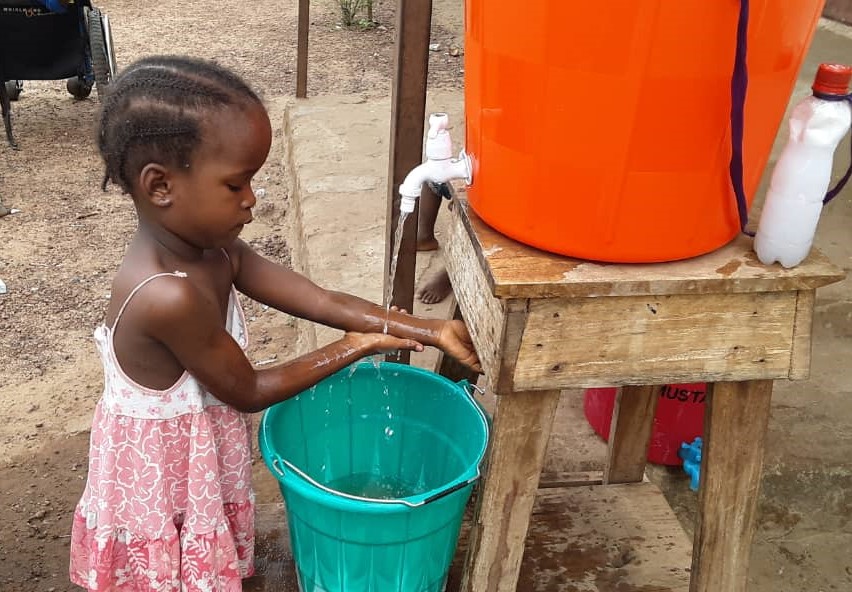 Children at Mustard Seed Children's Home in Moyamba learn to wash their hands to avoid corona.
Coronavirus has widened the gap further between the privileged and the under-privileged. Privileged kids are less impacted as parents are able to employ teachers and buy textbooks to keep their children learning. It is a different story for under-privileged children, who play during the daytime and in the evening are expected to study alone. They are gaining nothing.
The impact of government lockdown and business' closing is felt widely. Jobs are being lost particularly in entertainment centres such as bars, hotels, and restaurants. The closure of schools has meant that many women have lost their source of income through selling snacks and rice to children for lunch. Disabled persons are arguably the most impacted. Most disabled persons are uneducated and unemployed and rely on begging on the streets. The streets are now very quiet. There has been a hike in prices for goods and a fall in the value of our currency.
Despite the many challenges coronavairus has posed to the world, we are hopeful society will be normal again and we pray soon. International NGOs are doing great work on the ground. Sierra Leone Education and Development Trust for example has donated many mattresses and bed nets to vulnerable homes in Freetown and continues o provide food and medical treatment for its students. The World Bank has approved funding to assist vulnerable groups such as disabled persons, however this support is not available in the remote rural areas where SLEDT works.
Community organisations and university societies have all been visible with donations of food items and facemasks to needy people. It is truly heartwarming that a good proportion of Sierra Leoneans, for the first time in my experience, have been so resolved and animated in providing support to the less abled in our society.
As we say, "the night is long but the dawn always comes".